Can't quit smoking? Thanks to the innovative Genmist technology that we offer our customers, this has become possible. Try the latest development – Genmist Tobacco-Free Sticks, which are made from tea and other plants.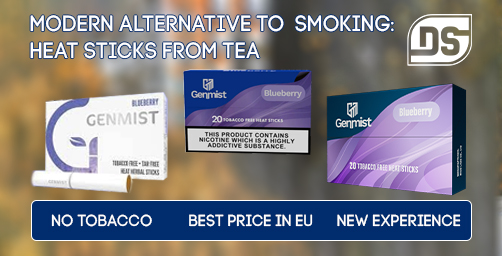 There are many cigarette substitutes on the market. Therefore, our team, having received requests from regular customers, orders two heat herbal sticks made without the use of tobacco. We present you sticks with nicotine (2 mg per stick) and sticks completely without nicotine (0 mg per stick).
Tea is a very healthy and pleasant hot drink. It's hard to believe, but it contains not only caffeine but also nicotine. Green or black, even if they have been decaffeinated, contain some amount of nicotine. Black tea, for example, is about 100 ng/g. Instant tea contains even more of this substance – in some cases, the concentration reaches 285 ng/g.
In addition to tea, nicotine is found in peanuts, corn, melon, bananas, raspberries, mangoes, and even eggplant.
Our line already includes 9 flavors with nicotine:
and 5 flavors without nicotine:
At the moment, we have submitted a request for the manufacture of similar products without tobacco with nicotine and without nicotine to other manufacturers. As soon as we receive a product that meets the high European standards, we will add them to our store and make them available for order. In our store, you will find not only Genmist heat herbal sticks, but you can also buy heat herbal sticks from other brands.
Follow the news on our blog!