Description
Get ready to witness the future of nicotine delivery with the V PLUS AirIns Nicotine Evaporator – a groundbreaking device developed by the Feellife medical team. This isn't just a vape; it's a revolutionary system that utilizes nebulized inhalation technology to redefine how we experience nicotine. Step into a realm where 1/10 of the nicotine intake is equivalent to 100% of traditional vapes, all thanks to the extraordinary Feellife's AiMesh® Nebulizer Module.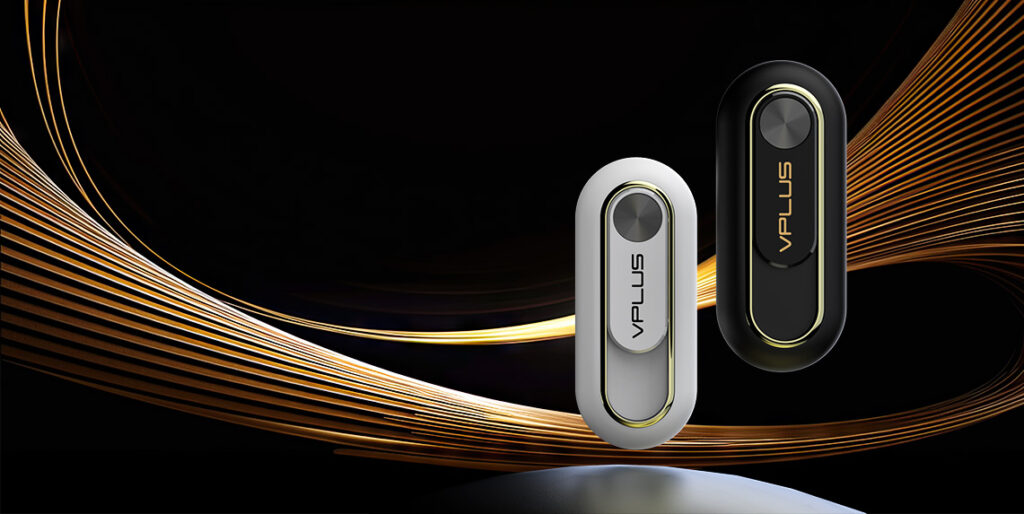 Beyond the Vape: Unveiling the V PLUS Revolution
V PLUS isn't merely a device; it's a symbol of unwavering dedication to human well-being, transcending the limitations of traditional e-cigarettes. With the mantra "beyond the vape," it heralds a new era in nicotine consumption. This brand story encapsulates transformation and reimagining, fueled by a commitment to healthier alternatives. V PLUS is not just closing the loop; it's expanding horizons in nicotine intake, emphasizing health, sustainability, and innovation. In a world of boundless progress, V PLUS guides towards a future where a healthier choice becomes a reality – a reality that goes "beyond the vape."
Watch the video presentation about new product:
The Vape Terminator: A Visionary Evolution
Are you ready to breathe easy with the V PLUS Terminator? Supported by the professional medical background of Feellife nebulization, it is set to revolutionize the vape industry. Medical nebulization inhalation boasts higher intake efficiency compared to traditional vapes. With a vision as the Vape Terminator – a symbolic slogan reflecting that vapes will no longer dominate due to our new technology – we stand as both the terminator and the revolutionary.
Unlocking Achievements with V PLUS:
Efficient Delivery:
Utilizing a medical-grade nebulization device, the V PLUS AirIns liquid cartridge is atomized into 2.5μm-5μm aerosol, ensuring swift and efficient settlement in the human lungs, rapidly achieving optimal results.
Scientific Formulas:
V PLUS eliminates redundant ingredients with potential pathogenic factors, retaining only high-purity synthetic nicotine, water for injection, and food-grade flavors. This scientifically formulated blend enhances safety and purity.
Ambient Delivery:
Nebulization takes place at ambient temperature, avoiding potential changes in the formula caused by high temperatures. This reduces associated risks and uncertainties, prioritizing a controlled and safe delivery.
Indicator Light Guide:
White light always on: Device is operational.
White light flashing 5 times: Low battery automatic shutdown.
White light breathing flashing: Device is charging.
White light always on during charging: Fully charged.
Special Pre-Order Offer: Beyond the Vape, Beyond Expectations
Be a part of this revolutionary evolution! Pre-order the V PLUS AirIns Nicotine Evaporator now and experience the future of nicotine delivery. As a special offer, with every purchase of one device, receive a complimentary tank – automatically applied to your cart. Purchase two or more devices, and delight in a free tank for each one.
Please note that due to the meticulous manufacturing process, delivery is expected by the 2024 New Year, making your anticipation all the more exciting.
Explore Our New Cold Evaporator Flavors with V PLUS AirIns
Unleash your imagination with our unique flavors crafted specifically for V PLUS AirIns cold evaporators. From the vibrant kumquat and juicy raspberry to the crispness of apple ice and the refreshing touch of watermelon ice – each flavor promises a brief escape into a world of sensation. Embrace the chill with mango, honeydew, grape, passion fruit, guava, and the timeless delight of strawberry. Elevate your vaping experience with these distinct and invigorating cold evaporator flavors.
Embrace the V PLUS AirIns Nicotine Evaporator – where innovation meets satisfaction, and vapes become a thing of the past.